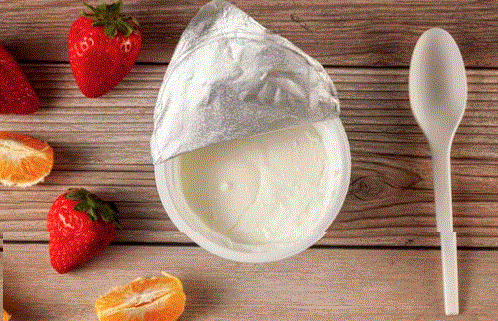 Big impact with a small container
These containers offer the perfect portion for small side sauces and spreads. Following industry standard diameters these cups process smoothly through heat-sealing equipment providing them with quality hermetic seals using aluminum lids or films.  Ideally sized, these portion cups also find their exact place in multi-compartment platters and dishes for numerous vegetable or snacking products on the market.
Available Cup sizes
Die cut Lids available in a variety of sizes and material :
Foil Lids
Made from aluminum with heat sealing lacquer or film, foil die-cut lids offer great flexibility in design and application. Foil lids are high barrier and easy to peel with enhanced customization opportunities like pin-dot and custom embossed logos or designs. Foil lids are a perfect fit for yogurt, milk, cheese, water, juice, beverages, coffee, cosmetics, and more.
Plastic Lids
Made from materials like polyethylene terephthalate (PET), plastic die-cut lids can be embossed or unembossed with opaque, metalized, or transparent film. Non-transparent films offer improved graphic quality and color saturation. Plastic die-cut lids offer excellent resistance to punctures and tears, they are metal free for packaging systems that require metal-detecting systems, and are microwavable, making them extremely customer friendly.
Paper Lids
Made from paper-laminated aluminum and plastic film of varying thicknesses, paper lids have high sealing power, high print quality, are resistant to mechanical damage. Die-cut paper lids are perfect for products that require effective protection from external environments like snacks, yogurts, frozen goods, and more.